06 Mar

Top 50+ Digital Marketing Websites and Blogs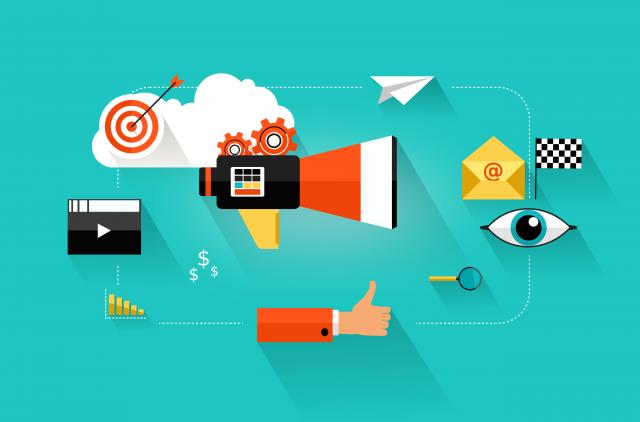 You know what?
There's lots of noise in the digital marketing space. And you don't need it, especially when you have the challenge of running a business and you need a solution that can bring results to the table.
So we have curated a list of digital marketing websites and blogs that are really worth your time. No junk, no clickbait, just good advice from real professionals and experts.
The list is an excellent resource for business owners and execs, as well as for marketers, copywriters and SEO experts that want to stay on top of their game.
Since digital marketing is a vast domain, the following 50+ websites you should check out have been divided into six categories: content marketing, SEO, social media, PPC, CRO, mobile marketing.
One last thing before we dive in: you may want to check out list of top 60+ websites for entrepreneurs and business owners, too. There are some hidden gems in there!
Content Marketing and Copywriting Blogs and Websites
1. SmartBlogger.com
Jon Morrow's advice has changed lots of bloggers around the world. Reading his blog and going through his training will save you a lot time and effort in your blogging journey. He is not your average blogger; his training materials are well structured and comprehensive, giving you step by step instruction on how to move from point A to Point B.
2. Copyblogger.com
Brian Clark founded this website for one reason: to teach people how to write. Copyblogger is full of resources about copywriting, content marketing, SEO and internet marketing. You can even get private access to his premium coaching sessions and courses. Aside from improving your content marketing and writing skills, the website also offers you certifications that you can show off.
3. Seth Godin
Seth is a genius when it comes to marketing. There's no way that we can talk about digital marketing and leave Seth Godin behind. On top of that, he is a guy who wrote 18 best-selling books! All of them are filled with actionable content marketing advice that you can use to skyrocket the success of your business. Reading Seth blog, you'll learn a lot about marketing, persuasion and building a tribe for your business. You'll also love his style: most of his entries are less than 200 words, but so informational!
4. Copyhacker
On Copyhacker, you can find tons of training materials and articles about copy that converts. It's ideal for agencies, department chiefs and business owners who want to get a better grasp about what works and what doesn't and how they should invest their marketing budgets.
5. HubSpot
There are very few companies that managed to change the way companies market and sell their products and services. HubSpot is one of them. They are also the ones that coined the term "inbound marketing". Their blog features a plethora of resources for marketes, C-level executives, copywriters, sales reps and more. Plus, the HubSpot Academy offers free training and certifications. Whether you use the HubSpot solutions or not, this website should definitely be in your bookmarks.
6. The Content Marketing Institute
The Content Marketing Institute is one of the pioneers of content marketing. Before content marketing gained the attention of mainstream media, this company did a lot to educate companies and marketers on its benefits. CMI is known for producing actionable and data-driven content that is helpful to marketers. If you want to catch up with the latest news, information, publications, interviews and discussions, CMI is the place that can teach you how the pros do it.
7. HiP
Are you in the B2B industry? Then you need to read HiP. HiP is a full-service B2B demand generation and marketing agency. They'll teach you how to put your content in front of the right audience. You'll also learn how to create email-based campaigns. In a nutshell, HiP will keep you updated with the most relevant B2B content and information: sales prospecting, lead generation ideas, email campaigns and audience qualifying tips.
8. Relevance
Relevance is a digital publication dedicated to owned and paid media online content promotion and distribution. Relevance doesn't just publish and curates content marketing materials, they also strive to connect you to market leaders and practitioners who share their in-depth advanced strategies.
9. Bookmark Content
This is a global marketing site with experts who teaches you how to engage consumers, drive sales and transform audiences. Book Mark Content shows you how to use communication and content right with the aim of achieving your business goals. Book Mark Content will give you access to dynamic professionals who are eager to show you how to craft and curate premium content.
10. Enchanting Marketing
If you want your business to grow online, then it's worth checking out Enchanting Marketing. Henneke is a business copywriter who teaches you how to write seductive content. The blog aims at helping you achieve 4 things as a copywriter: write sizzling sales content without being pushy, inspire your blog readers with ideas that can grow your authority, nurture the right habits and overcome mental blocks in your writing process. Last but not least, you will also learn how to find your voice a business writer.
11. The ID Group (Talking Content Series)
If the content you're producing doesn't make your customers feel the experience of owning your product or service, then you are failing. And there's no better place to learn how to fix this problem than learning from the ID Group. ID Group's main mission is to show you how to build an audience and drive actions that grow your business. To that end, the Talking Content Series is filled with in-depth interviews from world experts and influencers who share their journey in content marketing. You stand to learn a lot from them, especially since they share their secrets and strategies of business growth. More importantly, you'll learn from their experience as they answer six amazing questions on how they grew their business.
12. Impact
Impact specializes in inbound marketing. It is an agency built to help small to medium-sized business handle today's digital marketing challenges with ease. Over the years, Impact has won countless awards and is HubSpot-certified and a HubSpot preferred agency. In other words, if you want to get the latest news about HubSpot and inbound marketing in general, this is the blog to read.
13. Social Trigger
Did you ever start a blog that failed? If you want to prevent that from happening again, Social Trigger is a website to check out quite frequently. Derek Halpern will walk you through how he built his blog to 100,000 subscribers in less than 12 months. You'll find all the secrets, tactics, tips and strategies that brought him success. Feel free to borrow some or all of them.
14. The CopyBot
Demian Farnworth founded this website for a reason: to share the best writing advice, content marketing tips and more. Having written for Copyblogger and worked with numerous digital companies in different capacities, Demian is one of the best content writers and strategists. Copybot provides you with actionable advice on how to use content to connect with your audience and help them move forward on their buyer journey.
15. The IdeaLaunch
There is a reason why this site is called Idea Launch. The blog is filled with articles, webinars and guides that are designed to help you turn your ideas into viable businesses. Their mission is to create idea-driven, process-driven and customer-focused content that takes ideas from models to profitability and beyond. If you want to know whether your next content marketing idea will work, check out Idea Launch. You'll learn a lot from their research, insights and case studies.
SEO Blogs and Websites
Let's get real.
SEO is complex. And it doesn't exist in a void. It has to be connected to content creation and with your entire marketing strategy.
Plus, it's constantly changing and evolving. If you want to find out about the most recent Google algorithm updates and learn the best ways to rank any website, you need to know the best SEO websites and resources. Which is exactly what we put together for you.
16. Matthew Woodward
Mathew Woodward's blogs contain tips and pieces of personal advice that you can use to rank your site in SERPs. His blog, MathewWoodward.co.uk ranks for some of the most competitive keywords in SEO niche, so you know that you'll be getting advice from an SEO expert. His blog has won numerous awards and has been featured in major publications like Yahoo Finance, Entrepeneur.com, Inc.com, Search Engine Land, Kissmetrics and more.
17. Moz
Want to fly with the industry eagles? The Moz website is something that you need to read as often as possible (I, for instance, check it out daily). Initially named SEOmoz, it started in 2004 as an SEO consulting site. In time, it has evolved into much more than that. Their cloud-based tools (like Moz Explorer) are used by millions on a daily basis to gain insight on better ranking and keyword research. The Moz resources are amazing how-tos, webinars, research reports and insights from top industry wizards like Rand Fishkin himself.
18. SEOBOOK
The site offers webinars, articles, training programs and many more. If you need a crash-course in SEO, a beginner overview or an insight into the latest industry news and trends, you can find them all here.
19. Search Engine Watch
A must-read for anyone who fancies themselves an SEO expert, Search Engine Watch is one of the oldest websites to provide reliable information in this field. Industry news, how-to guides, webinars and tons of articles are what you can expect to find here.
20. SEO.com
SEO.com aims to help SMEs generate tangible results by building awareness, driving web traffic and connecting with customers. SEO.com will provide you advice on the best practices in the industry and, most importantly, teach you how to attract relevant traffic (from people you can convert into buyers) instead of irrelevant hits from people that will never become your customers.
21. CognitiveSEO
CognitiveSEO started in 2004 with a unique mission: to create a superb tool-set that will help you rank and monitor your site in SERPs. Through the company's SEO training material and toolset, you'll benefit from actionable insights related to your SEO and SEM. More importantly, you'll be able to make data-driven marketing decision instead of relying on assumptions.
22. Seer Interactive Blog
The Seer Interactive Blog offers more than basic SEO tips. The website has plenty of resources and advice from top SEO consultants in the industry. Seer strives to bring you the best news, articles and blog posts from leading marketing experts and authorities in the SEO world. Through Seer Interactive Blog, you'll learn a lot about SEO, PPC and analytics.
23. Search Engine Journal
Like the Seer Interactive Blog, the Search Engine Journal curates articles and news from SEO leading experts industry. What's more, the company holds conferences where they invite experts to come and share their knowledge about SEO. The best part about this kind of resources collection is that you don't just gain insights from a single editorial crew, but from various experts all over the world.
24. Wordtracker Blog
Mike and Andy Mindel started Wordtracker with the aim of offering insightful reports on which terms people prefer to use for search queries. With time, they developed tools and software that marketers can use to improve their SEO efforts. Along the way, the company developed keyword research tools that marketers can use to conduct in-depth market research for their product and services. Of course, aside from their tools, the company blog also offers a wealth of SEO information, industry news, tips and tricks.
25. SEO Roundtable
The SEO Roundtable collects the most interesting threads from multiple SEO forums. Instead of browsing tons of websites to get the scoop, you can do it in a single place. Plus, their blog also offers valuable insights and advice from top SEO experts.
26. Yoast Blog
Yoast is best known for their WordPress SEO plugin. But whether you use it or not, their blog is worth a look, especially if you're interested in the technical side of SEO. They also have in-depth tutorials to help you improve almost every part of your SEO and SEM tactics, from meta descriptions to keyword research and conversion optimization.
27. Crazy Egg
Crazy Egg, one of Neil Patel's business ventures, has a blog called the Daily Egg which covers tons of topics related to SEO and online marketing in general. You have access to resources that will motivate and empower you to get the best results from your SEO efforts.
28. Backlinko
You already know how important inbound linking and outbound linking are for your website's rankings, so I won't insist on that. I'll just say that Backlinko is a must-read site if you want to improve your link building game. Backlinko is Brian Dean's brain child. He shares in-depth tutorials and long-form guides, teaching everything that you need to know about link building, SEO, search traffic, or copywriting. The guy has worked for major companies like Apple, Disney, IBM and Amazon – just in case you needed one more reason to trust him.
29. The Ahrefs Blog
Ahref started out as a blog that covered web analytics and SEO topics. In time, it has evolved and created a keyword research software that you can use for market research and competitor analysis. Again, you don't need to use their tool to take a look at their blog. It's filled with excellent advice on keyword research, SEO basics, copywriting and content marketing.
Social Media Blogs and Websites
It's not just the SEO rules that change faster than a model's outfits. It's the social media rules as well. One day your Facebook organic reach is amazing, the next day it's basically zero. If you want to avoid being surprised by such changes, you need some reliable sources of information.
Check out the best websites on social media news, tactics, tips and tricks below.
30. AgoraPulse
A social media tool for agencies and brands, AgoraPulse also hosts one of those blogs that we just can't get enough of. The articles are well-written, witty and jam-packed with relevant information. Better yet, you can read them in English, Spanish and French!
31. Buffer
Buffer is a social media tool. Of course, they also have a blog. Aside from the articles you'd expect to find here (tips and tricks on how to engage with your audience and how to build a social media strategy), the Buffer blog also offers valuable reports based on their own analyses. Since it's one of the most widely used social media tools in the world, their reports are definitely worth a look!
32. Hootsuite
Yes, this is another blog by a social media management tool. What makes this one special, you ask? Well, Hootsuite was one of the first such tools to be created. Their blog is frequently updated and full of advice from established social media experts and thought leaders.
33. Social Media Examiner
Social Media Examiner curates articles from social media experts. Their articles, reports and how-to guides reveal what works and what doesn't in social media. The website that has over 500,000, all of whom benefit from expert interviews, original research, news and conferences that can improve anyone's social media strategy. If the blogs above (belonging to companies that create social media tools) are mostly focused on agencies, on Social Media Examiners you will find advice for brands of all sizes and for marketers in every type of company.
34. Social Media Today
An online community brimming with resources for professional social media marketers, Social Media Today covers industry news and provides original analyses. If you want to learn about the latest changes for any social network, this is the website to bookmark.
35. Social Media Week
More than a collection of articles and how-to guides, Social Media Week is also about bringing you news and updates about the latest conferences in the field. If you want to network with the best social media experts in the world, keep an eye on this website. You'll learn where you can find them!
36. Maximize Social Business
A leading resource that helps SMEs maximize and scale efforts with social media, the site topics like: brand awareness, community engagement, building an audience and generating traffics. Founded by Neal Schaffer, Maximize Social Business is a great place for people who truly care about the ROI of their social media efforts.
37. Send Social Media
Send Social Media is, first and foremost, a tool that combines social media management with email and SMS campaigns. On their blog, you will find tips and tricks on how to master each of these tactics and many other guides and resources useful to marketers in any field.
38. Sprout Social
Founded in 2011, Sprout Social is an analytics, engagement and reporting platform from social media. Leveraging big data and AI doesn't just make Sprout Social a handy tool; it also makes their blog extremely valuable. Take a look at their reports and insights – they will definitely help you come up with a better social media strategy.
39. The Social Media Hat
If you work with an SME, this is a site worth checking out. It will equip you with news, information, and original research that you'll need to grow and level-up your social media, SEO and blogging efforts.
Although Social Media Hat isn't a big brand, you'll be amazed at their curated articles – all of them very well written and insightful.
PPC Blogs and Websites
In a PPC campaign, every cent counts. Sometimes, even the best PPC campaigns reach a plateau phase where conversions aren't what we need them to be. We've all been there and it hit us hard. And we started searching for inspiration or fixes. Here are some PPC marketing websites that can help you with both.
40. WordStream
WordStream is known for publishing detailed, data-driven articles, guides and webinars about PPC management. The WordStream blog is not just about the usual "suspects", Google AdWords and Facebook ads. You can find advice and insights about less popular options, like Quora ads and even tips and tricks about content writing.
41. iSpionage
iSpionage is a search marketing competitive intelligence provider. In other words, it is a site dedicated to showing your real data on what your competition is doing. Their blog teaches you how to take these insights and turn them into campaigns that beat your competition with ease.
42. PPC Hero
If you are looking for PPC case studies, experiments, research reports, how-to guides and more, PPC Hero has you covered. From basic to sophisticated PPC tricks and hacks, expert marketers share everything on this blog.
43. Acquisio Blog
This blog takes a deep dive into PPC jungle. Aside from PPC tips and tricks, you will also find tons of information about marketing technology i.e. how AI can help you get more out of your campaigns. We love this blog because it helps us think outside the box and see connections we might have otherwise missed.
44. PPCChat
PPCChat is a weekly Twitter chat that brings a lot of experts together. Every Tuesday, they meet to share their thoughts and experiences in the PPC world. You can track the discussion using the #PPCChat hashtag.
Conversion Rate Optimization Blogs and Websites
Traffic is the lifeblood of any online business, but what if that traffic doesn't convert? As you may already know, here at Idunn we are bug fans of "meaningful", targeted traffic as opposed to countless visits that yield no real result.
Here are some of our favorite marketing blogs and websites that can teach you a trick or two about conversion rate optimization:
45. Conversion Rate Experts
The resources you will find on Conversion Rate Experts are absolutely must-read. Written by experts who worked with Google, Facebook, Apple and Amazon, they are jam-packed with actionable advice on how to improve your CRO without breaking the bank.
46. ConversionXL
What is your favorite way to learn new stuff about conversion rate optimization? An article, a webinar? Or maybe an in-depth e-book? You will find all these types of content (and many others) on the ConversionXL website.
47. Site Tuners
Tim Ash is the mastermind behind the Site Tuners. He is also the best-selling author of Landing Page Optimization. Why check his blog out? Because the comprehensive articles and how-to guides can take you from zero to conversion rate hero in a couple of hours.
48. Conversion Science
Brian Massey is the founder of the website that takes conversion rates most seriously. The lab-coat, science-backed approach to conversion optimization is what got us hooked to this website. But if you need more reasons, we've got them: Brian Massey is also the best-selling author of Your Customer Creation Equation: Unexpected Website Formulas of the Conversion Scientists, an amazing book for any marketer.
49. Unbounce
Unbounce is known for two things: helping digital marketing agencies improve their landing pages and optimizing their campaigns. The Unbounce blog is filled with resources, articles and in-depth guides that give you practical tips on how to improve your conversion rates.
50. Conversion Voodoo
Conversion Voodoo say they have helped clients' profits explode, accounting for more than 100 million dollars in sale. The only way to find out if they are the real deal is to give them a try. We did and we weren't disappointed. Aside from conversion rate optimization tips and tricks, you will also find a lot of great landing pages examples that you can draw inspiration from.
Mobile Marketing Blogs and Websites
Not sure how to get started with mobile marketing? Or maybe you're already a veteran in this field and simply need some industry news or advanced hacks? Whatever your speed, check out the best mobile marketing websites below:
51. Mobiadnews.com
MobiAD News was started back in 2007 by Jim Cook and Ferhan Cook as a site for publishing articles that contributed to the growth of the dynamic mobile marketing industry through tracking, educating and reporting. Now, their focus has shifted to mobile health and other emerging areas. The blog focuses on all aspects of mobile marketing and mobile commerce, two of the hottest growth areas in the mobile world today.
52. Mobile Marketing Magazine
Mobile Marketing Magazine provides critical insights and thought leadership news from the mobile marketing industry. Their mission is to help marketers make sense of mobile, establish stronger bonds between marketers and the technology they need, and encourage better brand engagement.
53. Mobile Marketing Watch
Mobile Marketing Watch is owned and operated by the Los Angeles based communications company, Mobile Storm. MMW and its writers cover an array of topics in all areas of the mobile ecosystem from advertising to technology and even healthcare. Mobile Marketing Watch provides news on the Android, iOS and Blackberry mobile platforms. I'm sure you'll also enjoy their articles on marketing strategies, mobile analytics, mobile commerce and mobile technology.
54. Apptamin.com
With a frequency of one post per month, the Apptamin staff and other experts share insights on App Store optimization, app promotion, user acquisition and video creation. In other words, if you want to market a mobile app (and be successful at it, of course), remember to bookmark this blog.
55. Text Republic Blog
Whether you use their solution or not, you should definitely check out the blog. The Tech Republic writers do a great job out of breaking down mobile and SMS marketing for both advanced users and newbies. Our favorite thing about this blog is that you can find tips and tricks by industry – from wedding planning to retail and food.
56. Jatxt.com
Since 2003, JA.TXT has been working on bridging the gap between strategic marketing and technology. Their blog is an incredible resource for anyone who wants to get serious about SMS marketing.
57. Textmarketer.co.uk
The Text Marketer blog is a great source of information for marketers, mobile enthusiasts or business owners who are interested in learning more about the world of mobile and SMS. They have hundreds of inspired, interesting and helpful articles, infographics and videos full of insightful gems on text marketing and mobile marketing.
58. TextMagic.com
The TextMagic brings to you the latest news, trends and inspiring ideas on how to grow your small business. While they don't post too often, you will find their articles insightful and inspiring.
59. Punchkick.com
The Punchkick Interactive blog should be bookmarked by everyone who wants to the first to learn about Google and Apple updates, plus other marketing technology scoops. If you prefer video or interactive learning formats, be sure to enlist for their webinars!
Did we miss any awesome digital marketing website or blog? Let us know in the comment section below.