07 Mar

The Top 25 Agency Blogs You Should Be Reading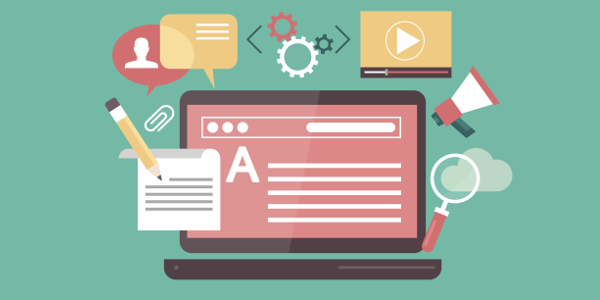 To be the best, you sometimes have to learn from the best. In the digital information age, tapping into the advertising world's greatest minds only takes a couple clicks. We're talking about company blogs, of course. Whether you're in search of information or inspiration, here are 25 creative agency blogs you should read.
Must Read: 2017 Social Media Trend Report: Volume 2
This fully integrated digital agency offers everything from media and creative to search and social marketing. Thus, it comes as no surprise that its blog is as varied as it is insightful. Plus, visitors can search by categories such as "mobile marketing" and "startup news." In addition to stellar copy, the blog boasts some great visual content, case studies, and trend analyses.
Must Read: How Retailers Can Level Up by Applying Gaming Innovations
One of the world's heavy hitters, Leo Burnett is a global advertising company founded in 1935. Simply put, this agency knows its stuff—and brands like McDonald's, Coca-Cola, and Samsung provide validation. As far as its blog goes, Leo Burnett is a great resource for the global market and big-picture ideas. Additionally, its influencer pieces are top-notch.
Must Read: The Emotional Marketing Process
This Los Angeles–based agency focuses on digital marketing, branding, and emerging media. Its blog provides unique takes on consumer insight that are actually applicable in today's evolving creative landscape. Articles like What is Emotional Marketing & Why is it Important? provide a truly unique perspective that is as entertaining as it is useful.
Must Read: Wake Up! Content Is Not Enough
Ogilvy is consistently ranked as the world's top agency—and for good reason. And its blog is more of a fully immersive media platform than anything else. Covering everything from mobile to social to behavioral sciences to tech to current events, the blog also features enough evergreen content to last a lifetime. It may be a lot, but it's worth digging through.
Must Read: 8 tech trends we're predicting for 2018
Beyond is a global experience design agency that provides research and analytics, idea management, and information and product design services. While it is not exactly the most traditional of agencies, its blog is a great synthesis of news, culture, data, tech, and design. From virtual reality and design to agency life and wearable tech, the blog constantly captures our attention.
Must Read: Check For A Heartbeat In Your Marketing Automation Platform
With capabilities that stretch from brand-building and media to integrated digital services, Hill Holiday is one of the country's largest agencies. The agency's blog is an insightful, entertaining amalgamation of industry trends, pop-culture analyses, and visual content—with plenty of useful evergreen content to boot.
Must Read: 6 Essential PR Predictions for 2018
Ketchum is one of the country's largest PR firms. And even if you don't deal directly with PR, the agency's blog is a wealth of knowledge for marketers and advertisers of all stripes. From think pieces on industry trends to in-depth analyses of agency life and culture, Ketchum provides relevant, insightful content—no matter your focus.
Must Read: The New Ways Established Brands Do Battle With Startups
London-based WPP is one of the "Big Four" of advertising with nearly $20Bn in annual revenues. It runs a huge network of companies, including Ogilvy, Grey, and JWT. WPP doesn't have a traditional "blog"; it has a "reading room" with articles on advertising, digital, branding, public relations, and design. This is a treasure trove of thought pieces and insight from one of the world's leading advertising minds. While WPP publishes a ton of content on its own site, it also curates articles published by its executives and affiliates on other sites such as Landor.
Must Read: 7 Uses of Augmented Reality that Will Matter to You, Your Business, and the World
SF-based Y Media Labs specializes in creating consumer apps for some of the world's biggest brands. It is also one of the fastest growing agencies in the US, growing from conception in 2009 to over 270 employees in under a decade. The YML blog is frequently updated with insight on the latest trends in design and technology. Read it to stay informed about everything from Bitcoin and IOT to brand building and storytelling.
Must Read: Why Gesture is the Next Big Thing in Design
IDEO is one of the world's foremost design agencies, repsonsible for some of the most recognizable contemporary designs. IDEO is also known as a thought leader in this space; what this agency preaches often becomes a part of the zeitgeist over time. Their blog – called 'The Octopus' – is filled with thought pieces on cutting-edge trends in design and its impact on culture. A must-read if you're interested in what design can actually accomplish.
Must Read: eCommerce SEO: Using Facets to Target Long Tail Keywords
London-based AYIMA is a digital marketing agency specializing in content marketing and SEO. Their blog content, unsuprisingly, revolves around these topics. Instead of snappy thought pieces, you'll find tons of practical, hands-on advice on digital marketing. You'll learn how to drive quality leads from social media, how optimize e-commerce taxinomy for SEO, and learn about the state of content marketing.
Must Read: How to Use Google Analytics to Understand Your Site Traffic
New York-based Aumcore is a digital marketing and web development agency. The wide scope of its services is reflected in the breadth of its blog content as well. You'll find content covering everything from digital marketing statistics to tips on building and using chatbots.
Must Read: Here Are 10 Ideas For Your Next Email Marketing Campaign
Blue Fountain Media is a New York-based digital experience agency with clients like the NFL, AOL, and P&G. It offers clients a full-range of services covering the entire digital experience, from branding and design to content marketing and SEO. As such, its blog has a very broad focus covering everything from cutting-edge design trends to more practical how-tos.
Must Read: The 2018 Bowen Guide to Design
Bowen is one of the leading boutique design agencies based out of New York. Although not a prolific publisher, Bowen's blog does have some strong thought pieces and interesting insight. Standout pieces include this one on emotional branding and content and the need for empathy in design.
Must Read: How Growth-Driven Design is Changing Website Strategy
Bstro is a digital marketing agency with clients like Band-Aid, Listerine, and Roku. Its blog is equal parts thought pieces and practical how-tos. If you're interested in using the power of GIFs in your marketing or becoming more productive at work, you'll want to his 'subscribe' to this blog.
Must Read: A Marketer's Guide: Content Marketing During Black Friday
Croud is a new take on the agency model with a core team of tech-savvy founders/managers supported by an on-demand workforce of creatives and technical talent. Think of it as a distributed agency. Its blog is equally ambitious, publishing several pieces each month on topics ranging from PPC to content marketing. While there are plenty of thought pieces, you'll want to visit it for the practical advice on marketing, social media, and design.
Must Read: What do we talk about when we talk about branded content?
DigitasLBi is the agency created after the merger of Digitas and LBi in 2013. A large agency with a global presence, DigitasLBi publishes a lot of content, sometimes even more than once a day. The majority of the blog covers tech trends and thought pieces focused on technology and design. A definite read for anyone interested in the latest in technology and how it can impact business.
Must Read: How Facebook, Twitter, and Pinterest Hook Users
HUGE is one of the larger US-based agencies with over 1400 workers and a huge list of Fortune 100 clients. It is also one of the largest publishers among agencies. In fact, it doesn't even have a "traditional" blog. Instead, it runs a magazine – Magenta – on a separate domain. This magazine has a number of long-reads revolving around design and technology. Make it a must-read, especially if you're in the business of creativity.
Must Read: How to Create a High-Ranking Technology Content Marketing Strategy
A marketing agency focused on SEO, social media, and content marketing, IronPaper publishes a ton of how-to content on these topics. Come here if you want to learn what's the best content-type for bottom of the funnel audiences or pick up practical advice on how to nurture leads.
Must Read: If You Could See What I Can See
One of the behemoths of the advertising world, BBDO is over a century old with 15,000+ employees in offices across the globe. As you might have expected, it has a strong content presence on its blog. You won't find much in the way of 'how-to' content. What you will find are thought provoking artilces on why data looks better "naked" and the case for better display ads.
Must Read: Six Trends that Will Define Mobile Marketing in 2018
R/GA started out as a computer-assisted filmmaking company back in 1977. Today, it focuses on product design and consulting. The company's blog essentially curates its articles published in agency magazines and blogs, such as this piece in AdAge about Nike's color philosophy. The topics covered include mobile marketing, leadership, design, and of course, technology.
Must Read: Brand America: What Does 'America First' Mean for American Brands?
Over a century old (the company was founded in 1896 by the eponymous James Walter Thompson), JWT is one of the biggest agencies in the world with some of the longest client relationships in the business. On its blog, it shares its "thinking" – thought pieces on everything from the gender bias in advertising to changing the shape of retail. Of key interest are the reports it publishes as PDFs regularly on the blog.
Must Read: Step-by-Step Guide to Performing a Design Sprint
NYC-based digital marketing agency One & Zero runs a regularly updated blog covering SEO, social, and content. Unlike a lot of other blogs on this list, this one has more practical hands-on advice on acing your digital marketing. There are also a ton of resources such as free traffic planners and short guides.
Must Read: Storytelling for Brands
Possible is a large creative agency that's a part of the WPP group. On its blog, dubbed 'Possible POV', the agency shares its thoughts on the biggest issues in technology, business, design, and the agency world. If there is a big development in the industry, you can bet that Possible would have an op-ed on it.
Must Read: Why Should Designers Care About Behviour Driven Development?
Product-focused design agency UsTwo runs a terrific blog about design, business, and development – all with spectacularly designed cover illustrations. There's equal parts practical advice (such as this article on understanding Viper) and in-depth thought pieces (such as this two-part series on managing change in the auto industry). Make it a regular stop on your reading list if you want a design-inspired take on the biggest issues in tech, design, and the digital world.
Which are your favorite creative agency blogs? Did we miss them on this list? Leave a comment and let us know below!