13 Feb

The best smartphone of 2021: 15 top mobile phones tested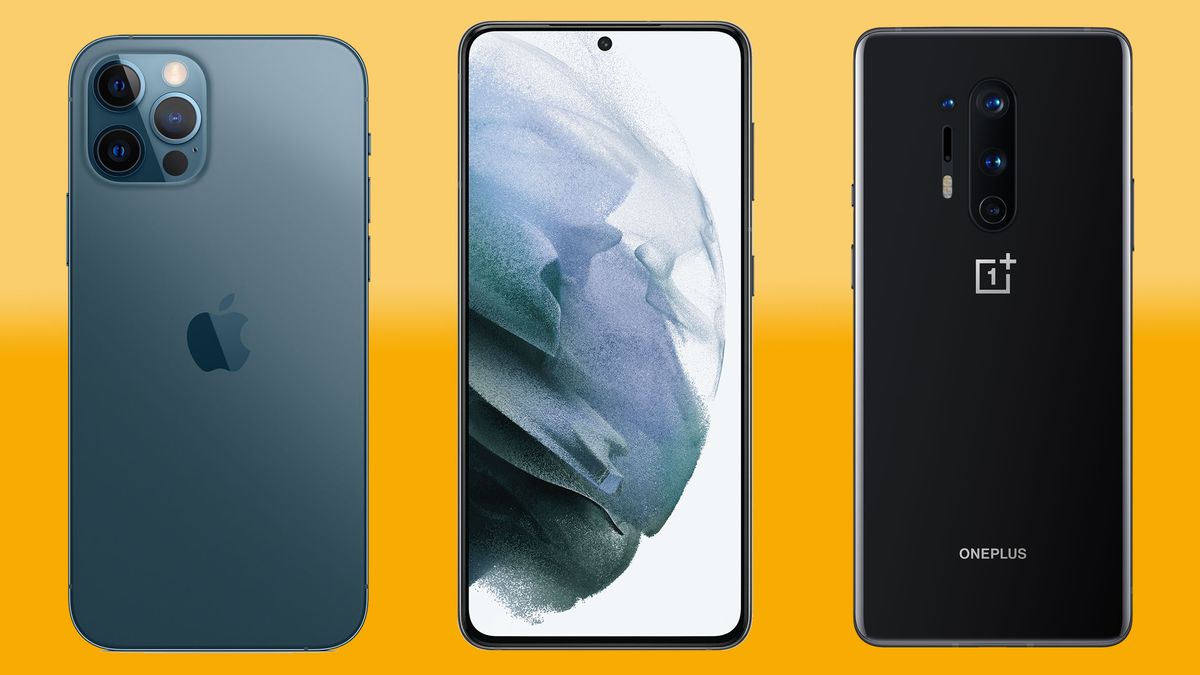 Are you looking for a new phone? Our best smartphone list is here to show you the top 15 devices you can buy right now. If you already have your mobile OS allegiance set, you may want to check out either our ranking of the best Android phones or best iPhones.
If what's on offer in our best smartphone list is a little too pricey for your taste, then don't fear, as we've also got a list of the best cheap smartphones available right now.
Best smartphones by brand
2021 is here, and we expect to see big changes to this best smartphones list throughout the year with new handsets including the OnePlus 9, iPhone 13 and even choices like the Oppo Find X3 Pro and Sony Xperia 1 III set for the next 12 months.
But, what about right now? We've just seen our biggest change in this list for months, with the brand new Samsung Galaxy S21 Ultra taking the top spot in our rankings.
We know that it's not all about the high-cost, super spec phones all the time though so we've made you a handy list of all the top smartphones that you can get on the market right now, assessing what really matters to you.
2020 saw an almost complete overhaul of this list with brand new devices entering the top 15 including the Samsung Galaxy S20, OnePlus 8 Pro, iPhone SE and, most recently, the iPhone 12, iPhone 12 mini, iPhone 12 Pro, iPhone 12 Pro Max and OnePlus 8T.
We test these phones rigorously through our review process, making sure that we check every angle and feature – but most importantly, considering whether they've got a decent battery, great screen, strong design and a cracking camera.
Then, perhaps most importantly, we consider the price too. Not everyone can afford (or even wants) a supercar-like handset in their pocket at all times, so we've ensured to give you a full ranking.
Want to know the best part of this list for you? Our best phone list has never looked better. Let's get started on our list of the top 15 handsets. You can see them quickly below, and then we're set to talk you through the very best phone in the world right now. What could it be?
Best phone at a glance:
Samsung Galaxy S21 Ultra
OnePlus 8 Pro
iPhone 12 mini / iPhone 12
Samsung Galaxy S21 / S21 Plus
iPhone 12 Pro / iPhone 12 Pro Max
Oppo Find X2 Pro
Samsung Galaxy Note 20 Ultra
Motorola Edge Plus
OnePlus 8T
Samsung Galaxy S20 / S20 Plus
Xiaomi Mi Note 10
iPhone SE (2020)
Samsung Galaxy Note 10 Plus
iPhone 11
Sony Xperia 1 II
The Samsung Galaxy S21 Ultra (Image credit: Future)
1. Samsung Galaxy S21 Ultra
A top tier smartphone, and it takes our best crown
Specifications
Release date: January 2021
Weight: 227g
Dimensions: 165.1 x 75.6 x 8.9 mm
OS: Android 11
Screen size: 6.8-inch
Resolution: 1440 x 3200
CPU: Snapdragon 888 / Exynos 2100
RAM: 12GB / 16GB
Storage: 128GB/256GB/512GB
Battery: 5,000mAh
Rear camera: 108MP + 10MP + 10MP + 12MP
Front camera: 40MP
Reasons to buy
+The best camera zoom+Mesmerizing design
Reasons to avoid
-Expensive at any level-No microSD card slot
The Samsung Galaxy S21 Ultra is our best smartphone in the world right now, and we think it's a fantastic choice for you with one of the best cameras, phenomenal power, great battery life, a solid design and a whole host of other great features.
The Galaxy S21 Ultra isn't a cheap handset, the price is high for this one, but if you're looking for the ultimate smartphone experience in 2021 you will be hard pressed to do better than this latest from Samsung.
Screen: The Samsung Galaxy S21 Ultra features a top 6.8-inch screen with a 120Hz adaptive refresh rate and a Quad HD resolution. This is one of the best smartphone displays on the market.
Battery life: The Samsung S21 Ultra's battery life is solid, and we found it'd often see us through a whole day from a full charge. If you're playing around with the 120Hz refresh rate, battery life is likely to be lesser but it's a top choice if you're after a long lasting phone.
Note the Samsung Galaxy S21 Ultra doesn't come with a charger in the box though, so you'll have to use your existing one or buy one separately.
Camera: Samsung's 108MP camera on the Galaxy S21 Ultra is going to be the highlight for many, and the camera doesn't disappoint on this phone. Like its predecessor, you can take 100x zoom photography, but it's far improved here over the Galaxy S20 Ultra with two cameras working to do the heavy lifting.
Mini verdict: The Samsung Galaxy S21 Ultra won't be for everyone with its high price, but it's the ultimate smartphone you can buy right now taking our crown for the best smartphone money can buy. Be sure to read our full review before making your final decision, but if you're after one of the best overall smartphone experiences we believe you'll find it here with Samsung's latest.
Read more: Galaxy S21 Ultra review
Price comparison:
The best Samsung Galaxy S21 Ultra deals
Contracts
Sim Free
Sim Only
Showing 10 of 3,608 deals
Sort ByRecommendedMonthly cost (low to high)Monthly cost (high to low)Upfront cost (low to high)Upfront cost (high to low)Data (low to high)Data (high to low)Network (A to Z)Network (Z to A)Product Name (A to Z)Product Name (Z to A)Minutes (low to high)Minutes (high to low)Texts (low to high)Texts (high to low)Contract length (low to high)Contract length (high to low)
100GBdata
Unlimited mins
Unlimitedtexts
100GBdata
Unlimited mins
Unlimitedtexts
100GBdata
Unlimited mins
Unlimitedtexts
20GBdata
Unlimited mins
Unlimitedtexts
50GBdata
Unlimited mins
Unlimitedtexts
100GBdata
Unlimited mins
Unlimitedtexts
20GBdata
Unlimited mins
Unlimitedtexts
50GBdata
Unlimited mins
Unlimitedtexts
Unlimiteddata
Unlimited mins
Unlimitedtexts
100GBdata
Unlimited mins
Unlimitedtexts
Load more deals
Round up of today's best deals
Unlimited mins
Unlimitedtexts
100GBdata