28 Feb

50 Editor-Approved Gadget and Gear Gifts for the Holidays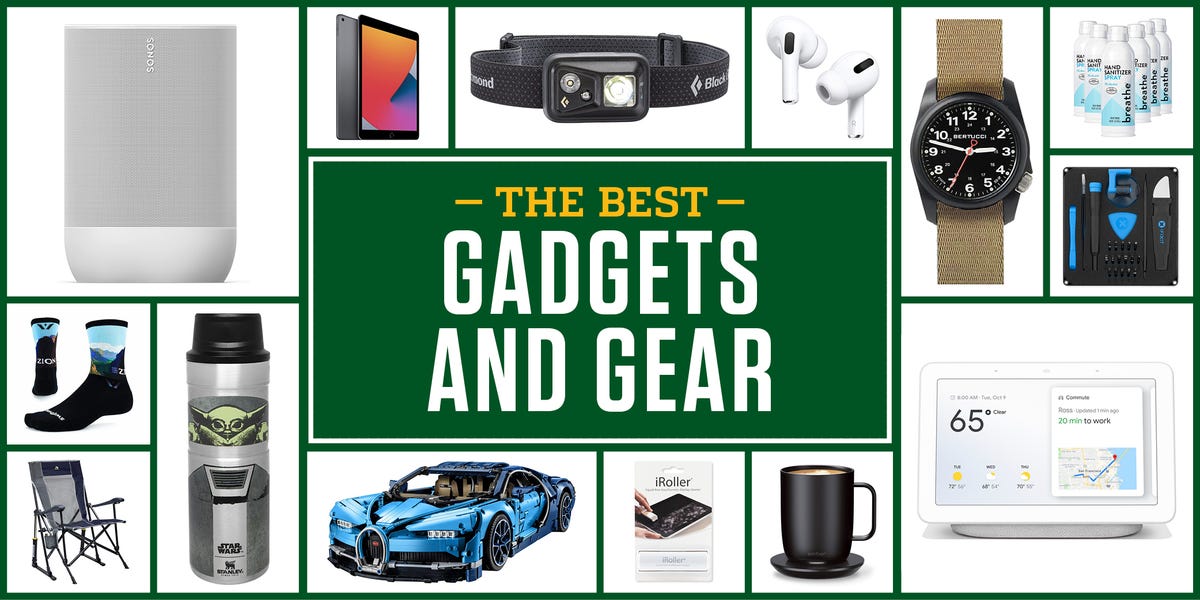 Everybody has a few gadgets or pieces of gear on their wish list that they may not need enough to buy themselves, but definitely want if only to improve their lives all year round. Whether you're shopping for an outdoor lover, DIYer, or tech enthusiast, our editors tested, tried, and researched the best gadgets and gear than anyone will be happy to unwrap. From the latest wireless headphones to smart home devices to rugged outdoor gear, this list has something for everyone. But if you're still not finding the perfect present, browse more specific gift guides we've compiled for the holidays.
Mophie Wireless Charging Stand
Wireless charging is still new enough that the price of the Mophie is totally worth it for the novelty of tossing your phone on this pad and watching the battery return to life. There are plenty of good options, but the slider design sets this one apart. It allows you to charge your phone flat or at an angle, which is perfect for a nightstand, if you want to peek at the clock or notifications with squinty eyes. The fabric cover adds a little softness to the appearance. More important, it charges Qi-compatible devices through cases pretty fast, about 2 hours to go from 3 percent to 95 on an iPhone XR.
iFixit Essential Electronics Toolkit
Anyone who's not afraid of the phrase "void the warranty" will want one of these. Modern electronics are deliberately difficult to disassemble to fix and replace parts, but this kit takes care of that.
Honeywell HCM350B Germ Free Cool Mist Humidifier Black
Honeywell Home amazon.com
The best humidifier for your home this winter, the Honeywell is relatively easy to maintain and releases actual water vapor—rather than water mist. The one-gallon tank can run for a full 24 hours on low, so you can keep it running all day and night.
Swiftwick VISION SIX Socks
Swiftwick amazon.com
$19.99
Whether you know someone who likes to run, bike, or hike, these super-soft, moisture-wicking socks are exactly what they need to stay cool and comfortable. Socks are just as important as the right shoe or boot, but spending $20 on one pair can feel like a tall order—that's why they make perfect gifts. These Swiftwick socks come in a variety of National Park designs, so you can pick their favorite one.
Sonos Move Smart Speaker
Sonos brings its renowned sound to its first portable bluetooth speaker. A built-in handle makes it easy to carry, but at more than 6 pounds, it's best for bringing it to outdoor living spaces—the patio, deck, or garage. It's got an IP56 rating, so should survive rain, dust, dirt, and other bad stuff. Sound is impressively deep and rich. It connects through Wi-Fi to Alexa, Siri, and other assistants, so you can control it through your phone, an Echo, Apple's Airplay 2, or directly from a mic on the speaker. There's also bluetooth connectivity, which is handy if you use it away from home. And when you are at home, just set it on the simple charging base to power up without having to plug it in.
GCI Outdoor RoadTrip Rocker
GCI Outdoor amazon.com
$69.99
Help them kick back and relax once they arrive at the campsite with this folding rocking chair. Set up takes no time, and perhaps most importantly, it does have a cup holder.
Google Nest Hub
Google walmart.com
$89.98
This Google Home Hub comes with a few extra features you won't find elsewhere on Google's smart-home lineup. The big one is the screen, which relays helpful information at a glance. It also comes with a hardware button that turns off the microphone in case you're worried about smart-home security issues.
Travelrest Ultimate Memory Foam Travel Pillow
Travelrest amazon.com
$39.95
A great travel pillow will make those long hours spent in the car or on a plane just that much more bearable when you're visiting family or friends over the holidays. The Travelrest even packs down into a bag that's a ¼ its original size for super easy transport.
Popular Mechanics Maglite ML300L
We're so impressed with Maglite's legendary durability and performance that we partnered with them to create a Popular Mechanics edition—complete with over 1,000 lumens of power, five light functions, and years worth of battery life. You can even take 20 percent off with the code PM20.
Anker Nebula Capsule Smart Mini Projector
Anker amazon.com $349.99
$299.95 (14% off)
This mini projector is the size of a soda can, but capable of projecting 100 inches of HD video for up to three hours. It has a built-in speaker that you can actually hear, too. It's the ideal tool for outdoor movie night.
SKT Productions iRoller Screen Cleaner
SKT Productions amazon.com
You may not realize just how dirty all of your screens are until you use the iRoller. This touchscreen cleaner is simple to use—and reuse by just running under water to clean. Now that we're all spending more time on our screens, there's likely someone on your list who will love help to keep them all smudge-free.
Braven Speakers BRV-X/2-FG
This rugged, waterproof, shockproof, portable speaker is made for river canoe trips, camping in a national park, or just hanging in your backyard basecamp. Braven shows off the capabilities of its waterproof speakers in promo images with a cute pup swimming with one clamped in its teeth like a stick. We didn't have a dog handy, but we did give it to some young kids to play with in the tub (it floats!). With an IPX-7 rating, the X2 survived, its deep bass and overall clarity in tact (though there is some distortion when the speaker body is soaking wet). The sound is slightly better than you'd expect from a $100 bluetooth speaker, with good base and pretty crisp highs. And the controls and bluetooth pairing are intuitive. You also can use the Braven's battery (and a USB cable) to power your other devices.
Radiate Eucalyptus Campfire
Radiate amazon.com
$28.99
Though it looks like a candle, this is actually a disposable campfire that'll last for a few uses for those not able or willing to commit to purchasing their own fire pit.
New Apple iPad 10.2-inch, Wi-Fi, 32GB
Apple's newest iPad comes equipped with 32GB, up to 10 hours of battery, a 10.2-inch Retina display, and A12 Bionic chip. It's just powerful enough for on-the-go work without being overkill if you just want to stream movies and surf the web.
MOFT Invisible Slim Laptop Stand
If someone on your gift list is still working from home from their laptop, this MOFT stand will save their eyes on a daily basis. It sticks onto the underside of a laptop with a strong adhesive, but is thin enough not to notice when not in use. Made of unique PU and fiberglass, the stand feels like soft felt, but is surprisingly strong and sturdy and has the option to be used in two different heights/angles.
Sony WH1000XM3 Wireless Noise-Cancelling Headphones
The noise-cancelling technology in Sony's WH100XM3 wireless headphones is the best in the industry. Plus, they have 30-day battery life, easy touch controls, and a compact travel case.
Instafire Popular Mechanics Fire Starter
Instafire amazon.com
$33.26
This instant fire starter will make setting up camp a breeze. Instafire is safe to use with no chemicals, and can light even when it's wet and windy out.
Magpul DAKA Pouch
We swear by this pouch to organize all of your charging plugs, cables, or other tech and tools when you travel.
Lego Technic Bugatti Chiron
Lego's Bugatti Chiron will teach you about how the real thing actually works—while being significantly smaller and cheaper. Kids and adults alike will enjoy this mirror-image, 3,599-piece kit.
SOG Twitch II Folding Knife
Our favorite pocket knife, the SOG Twitch II is modest, slim, and comfortable—and most importantly, it's capable of making smooth, even cuts.
eufy RoboVac 30C
eufy amazon.com $299.99
$249.99 (17% off)
The best robot vacuum you can get for under $300, Eufy's RobovVac 30C makes cleaning efficient and easy with its simple bump-and-go navigation.
Rocketbook Smart Reusable Notebook
Instead of manually transferring your handwritten notes from work or your workshop to your laptop, Rocketbook's smart notebook comes with 36 reusable pages that will send your writing to most cloud services.
Stargazer 12-Inch Skillet
Stargazer stargazercastiron.com
$145.00
One of our favorite cast iron skillets, the Stargazer will stand out in their kitchen for years. We use it on a daily basis to fry eggs, sauté veggies, and bake mac and cheese, and we love it for its smooth surface, balanced weight, large helper handle, and long handle that stays cool longer.
Apple AirPods Pro
Apple amazon.com $249.00
$219.00 (12% off)
Apple's popular AirPods have silicone inserts for a more custom fit, and we found that the new noise-cancellation feature is super-effective on cross-country flights.
Bertucci A-1R Field Comfort Watch
Bertucci amazon.com
$54.51
The new Bertucci A-1R Field Comfort watch weights just 1.3 ounces with a 36mm case. It's water resistant to 50 meters, and the face glows in the dark with luminous coating.
Ember Temperature Control Smart Mug 2
Out of all of the smart home gadgets, you might not appreciate the utility of a smart mug. But this one makes sure coffee and tea-loving friends always have a warm beverage to sip.
Black Diamond Spot Headlamp
Black Diamond amazon.com
$39.95
This Black Diamond headlamp boasts 300 lumens and plenty of setting options so you have the right amount of light for navigating your campsite in the dark, trail running, or making repairs in dimly lit areas of your home.
TP-Link AC750 WiFi Range Extender
A Wi-Fi range extender may be exactly what you need to boost your internet connection required by all of those new gadgets under the tree.
Car and Driver 10W Vehicle Charger
Car and Driver bestbuy.com
$54.99
Our colleagues at Car and Driver now offer a series of accessories you need for your car, including this wireless phone charging stand to mount to your dash or vents.
Ecobee Smart Thermostat with Voice Control
Ecobee amazon.com
$249.00
A great smart thermostat will not only provide a convenient, automatic way to adjust the thermostat this winter, but also give the gift of a lower electric bill. This one has built in voice commands and speaker, and remote sensors make sure the rooms used most have the most accurate temperatures.
Osprey Packs Farpoint 40 Travel Backpack
Osprey's Farpoint backpack is the best bag for traveling, since it's lightweight and comfortable like backpacking gear, but can haul a suitcase-worth of stuff.
Creative 2.0 USB-Powered Desktop Speakers
These affordable desktop speakers won't take up too much space on a crowded surface, but will still provide great audio for games or videos.
Nimble Eco-Friendly 5-Day Portable Charger
Whether for emergency preparedness or regular off-grid excursions, a portable charger like this one is essential to ensure your smartphone and other small electronics never run out of battery. Plus, the Nimble is constructed from recycled and plant-based plastics and can charge up to four devices at once.
Ring Video Doorbell
A video doorbell camera makes a great gift for those who want to keep track of packages and visitors when away, or just from the comfort of the couch.
Leatherman Free P2 Multitool with Magnetic Locking
Leatherman amazon.com
$119.95
Leatherman's latest Free collection of multitools features magnetic locking for easy one-handed access to an impressive 19 tools.
Top Shelf Boston Shaker Set
Top Shelf amazon.com
$24.95
Anyone who's learning how to mix drinks like the pros will love this shaker set. With 18- and 28-ounce cups, it's large enough to make two cocktails, but only one is weighted so they can make drinks for a crowd.
Google Pixel 4
Google amazon.com $799.00
$542.02 (32% off)
If you know someone who's just gotta have the latest smartphone technology, the new Google Pixel 4 has it. In addition to Google's impressive camera, it has Face Unlock and motion-sense technology to control it through hand motions.
Thermos Work Series 40 Ounce Beverage Bottle
There's a reason the Thermos brand is synonymous with insulated bottles and food containers. This bottle is durable enough to bring to the workshop and will keep its contents hot or cold for 24 hours.
Echo Dot (3rd Gen) Smart Speaker
Smartwool Liner Tech-Compatible Gloves
We're fans of Smartwool's liner gloves for their durability, warmth, and touchscreen compatibility. Wear them on their own or under a pair of winter work gloves without too much bulk.
Breathe Spray Hand Sanitizer – 5 Ounce – (6 Pack)
BREATHE amazon.com
$29.94
What better stocking stuffer for 2020 than hand sanitizer spray to help keep everyone on your gift list healthy through the holidays? This one has a formula that is 75-percent alcohol, fragrance-free, and dries fast with none of the sliminess you can get with other sanitizers.
Sheets & Giggles Eucalyptus Lyocell Sheet Set
Sheets & Giggles amazon.com
Help anyone fall asleep with ease under these cooling, soft, and eco-friendly eucalyptus lyocell sheets.
The Proclamation Duo
proclamationgoods.com
$379.00
This two-pan duo is a great space saver—they can replace a whole set of pots and pans. The 12-inch skillet and 7-quart stockpot/wok can band together to become a dutch oven, and it comes with another matching lid. The skillet is offered in both stainless steel and carbon steel—and you can't beat its lifetime warranty.
Hydros 40oz Carafe
Hydros hydroslife.com
$24.00
Finally, there's a stylish water filter that you can fill up all at once—no more waiting for water to trickle down. The Hydros Carafe is also small enough to fit in a crowded fridge and sleek enough to serve water at a dinner party.
Papier Navy 2021 Weekly Planner
A stunning leather daily planner may be exactly what colleagues or anyone else need to start 2021 off on the right foot. You can even add a custom monogram to the front to make it an extra special gift.
Prevention by OttLite LED Desk Lamp
OttLite amazon.com
$49.99
If someone on your life is spending all day staring at their computer screen when working from home, they probably need something to relieve all that eye strain. This desk lamp includes a variety of brightness settings with three color modes to reduce glare and eyestrain. Plus, it's got an extra USB port and a wireless charging station to help declutter all those cables from their workspace.
Field Notes: National Parks Series
Field Notes amazon.com
$14.95
Outdoor adventurers will enjoy recording their experiences on their travels in these notebooks with illustrations of gorgeous views from National Parks. Plus, Field Notes gives five percent of each purchase to the National Park Service.
PhoneSoap 3 UV Smartphone Sanitizer & Universal Charger
PhoneSoap amazon.com
$79.95
For those who are worried about trying to keep their phone clean and germ-free, the PhoneSoap is a UV-light sanitizer that will kill bacteria in just 10 minutes. Keep it next to the front door to disinfect your phone, keys, wallet, and more once you get home.
Stanley Star Wars x The Child Trigger Action Mug 16oz
Stanley amazon.com
$30.00
The Mandalorian fans can take The Child and their favorite hot beverage with them whenever they leave the house with this insulated, stainless-steel Stanley travel mug.
Popular Mechanics Subscription
Hearst Magazines amazon.com
There are few better gifts than subscriptions that keep giving all year round. With Popular Mechanics, they'll get expert knowledge on technology, home improvement projects, gear reviews, and how our world works.
This content is created and maintained by a third party, and imported onto this page to help users provide their email addresses. You may be able to find more information about this and similar content at piano.io